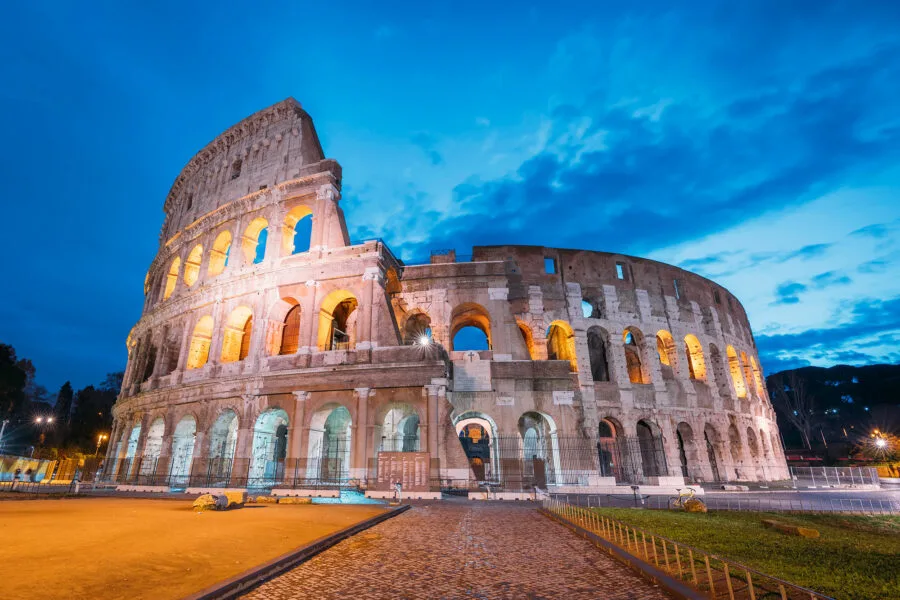 Rome, Italy
The ancients believed Rome would last forever, and it seems they were correct! The Eternal City is full of fun things to do & see — from architecture, to history, to art, and food.
Rome's Baroque and Renaissance churches, towering temples, hidden catacombs, and mythical fountains make Italy's capital city an amazing place to visit and a top destination for travelers. Sure, Venice is nice, but Rome has a completely different feel.
Combine the history and architecture of Rome with its delicious pastas, pizzas and gelatos, and you'll enjoy a taste of the dolce vita. But there are many other fun things to do in Rome that most people miss…
From visiting lively piazzas to chilling in quiet neighborhoods, here's my guide on what to do in Rome, Italy when you visit! I've also included some of some of my favorite fun & unusual attractions that will make your trip extra special.

My Rome itinerary is completely free! I've worked hard putting it together for you. If you find it useful, please use my affiliate links when you book hotels, rental cars or activities. I'll get paid a small commission, at no extra cost to you! Thanks.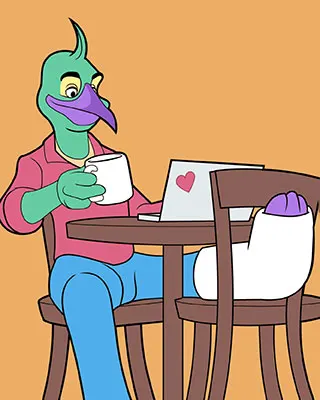 Get Travel Insurance
Protect yourself from injury, illness, or theft while on vacation. SafetyWing offers affordable travel insurance!
Best Things To Do In Rome In 2023
1: Visit The Magnificent Colosseum
No trip to Italy is complete without a visit to the Colosseum. One of the most popular tourist attractions in Rome, the Colosseum is a testament to Roman architecture. Listed as a UNESCO World Heritage Site, it's also one of the 'New 7 Wonders of the World'.
This circular amphitheater was the largest building ever built and could hold almost 80,000 spectators at a time. The patrons of the Colosseum would hold gladiator shows, executions and plays such as Sylvae, Naumachiae, and Venatio.
Basic entry into the Colosseum costs €12 EURO. But try to get there early in the morning, because wait in line to get in can take 2 to 3 hours. To avoid the hassle, I recommend booking a skip the line combo ticket online which also gives you access to a few other popular Roman attractions!
Opening Hours: 8:30 AM to 4:30 PM (October to February – with longer hours during peak season)
➜ Read My Guide To Visiting The Colosseum Here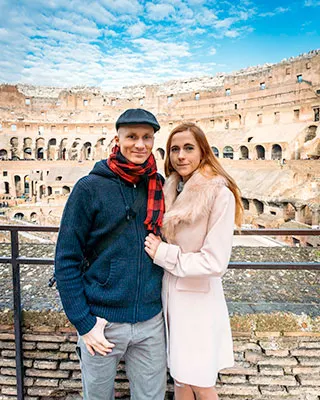 Colosseum Combo Tickets
Skip the line with a combo ticket to visit 3 of Rome's hottest attractions: The Colosseum, Roman Forum, and Palantine Hill.
2: See The Roman Forum
The Roman Forum or Forum Romanum was an important center of social, religious and political activity in the times of the Caesars. It was also the site of many temples dedicated to different gods.
It's easy to spend a few hours wandering around the Roman Forum to marvel at ancient structures like the Arch of Titus, the eight remaining pillars of the Temple of Saturn, Temple of Castor and Pollux, Temple of Vesta, Temple of Antoninus and Faustina, Basilica of Maxentius, Arch of Septimius Severus, House of the Vestals and much more.
You can visit the Roman Forum on its own, or combine it with other major attractions like the Colosseum and Palantine Hill with a special combo ticket.
3: Visit St Clement Basilica
Dedicated to Pope Clement I, the St. Clement Basilica consists of three layers. The top layer is the Basilica that was built in the middle ages.
The layer below is the home of Senator Titus Flavius Clemens who secretly converted to Christianity and opened his home to clandestine worship services. This level is also home to a temple of Mithras.
The lowest layer may have been a mint that was destroyed in the Great Fire of Rome in 64 AD.
The Basilica di San Clemente al Laterano is one of the best places to visit in Rome to see different eras of history and architecture in one setting.
Entrance Fee: €10 EURO
Opening Hours: Monday – Saturday: 9 AM to 12:30 PM and 3 PM to 6 PM. Sunday: 12 PM to 6 PM
4: Marvel At The Architecture Of The Pantheon
Listed among the top famous places in Rome, the Pantheon was built in 126 AD on the site of the Pantheon of Agrippa that was destroyed in 80 AD.
The building is lauded for its amazing architecture, having both a height and a diameter of 43.5 meters. The Pantheon is home to the tombs of many royals and artists, including the famous Renaissance painter Raphael.
Entrance Fee: Free
Opening Hours: Monday – Saturday: 8:30 AM and 7:30 PM Sunday: 9 AM to 6 PM
5: Throw A Coin In Trevi Fountain
One of Rome's tourist attractions that's always crowded is the famous (and beautiful) Trevi Fountain. It originated as one end of the Aqua Virgo aqueduct in 19 BC. The current version of the fountain was built by Nicola Salvi and Giuseppe Pannini.
The popular myth that throwing coins in the fountain to return to Rome or fall in love — results in over 1 million Euros worth of coins being thrown in every year! The city collects this money and uses it to support good causes.
How did the Trevi fountain get its name? Since the fountain is at the junction of three streets, the fountain was called three ways or Tre Vie.
Rome Photography Tip: The Trevi fountain is super crowded all day long. It's a very popular Instagram photography spot. But if you make a dedicated visit in the middle of the night, or just before sunrise, you might have it to yourself for a while (my photo above was taken around 4am).
6: Villa Borghese Park & Borghese Gallery
Set on the Western banks of the Tiber, the Villa Borghese is the third largest park in Rome. Established by the Borghese family in 1901, it's filled with fountains and sculptures by famous artists.
Galleria Borghese or Borghese Gallery is housed in an elegant mansion in the park and showcases collections by artists such as Bernini, Carvaggio, Botticelli, Raphael.
Borghese Park is also home to the Silvano Toti Globe Theatre, and the Bioparco zoo that's home to over 200 species of animals.
Entrance to Villa Borghese Park is free from dawn to dusk, but it might get crowded if there are musical events or plays in the park.
Entrance Fee: €20 EURO
Opening Hours: Tuesday – Sunday from 8:30 AM to 7:30 PM. Closed Mondays.
7. The Vatican Museum
Near St. Peter's you'll also find the famous Vatican Museums established by Pope Julius II in 1503 and which hold the world's largest collection of artwork (70,000 pieces within the walls of Vatican City).
However, not all of these are on display, about 20,000 artworks are available to the public, while the other 50,000 remain in safe storage. The Museums are made up of 54 different galleries.
The Sistine Chapel in the Vatican Museum decorated by Michelangelo is one of the most renowned art of all time. It's an amazing thing to see in person! Other favorites include the incredible Map Room.
Entrance Fee: €16 EURO for adults, €8 EURO for kids
8: See Rome's Largest Stadium, Circus Maximus
Chariot racing was a popular spectator sport in ancient Rome. No wonder the Circo Massimo or Circus Maximus was built to hold as many as 300,000 spectators.
The only thing that remains of the Circus Maximus is the large space that it fills between the Palantine and Aventine hills; so it's perfect for a quick stop over between visiting the two.
9: Climb The Spanish Steps
The Spanish Steps or Scalina Spagna that were completed in 1725 serve a very practical purpose. These 135 steps were built by the funds donated by the French diplomat Etienne Gueffier.
It created a pathway from the Trinità dei Monti church which was located in the Piazza Trinità dei Monti at the top to the Apostolic See of the Palazzo Monaldeschi in the Piazza do Spagna at the bottom of the steps.
At the bottom of the Spanish Steps in the Piazza di Spagna is also the Fontana della Barcaccia designed by Bernini and popular area to get photos, or just hang out near the steps to people watch.
10: Test Your Fate At The Mouth Of Truth
Weighing about 1300 kgs, the Bocca della Verità (Mouth of Truth) represents the face of the sea god Oceanus. Legend has it that if you put your hand in the mouth and tell a lie, it will be bitten off. This is why you'll see many tourists lining up to take pictures with their hands in the Mouth of Truth.
This somewhat creepy marble structure was once located in the Piazza della Bocca della Verita and moved to its current location outside the church of Santa Maria in Cosmendin in 1632.
11: Capuchin Crypt Bone Church
Located on a small street on Calle Vittorio Veneto, the Capuchin Crypt Bone Church was really easy to miss. But once inside, you learn about quite a grim tale.
When the monks of the Santa Maria della Concezione dei Cappuccini moved from their old monastery to the new one in 1631, they brought with them bones of over 3700 cappuchin friars who had passed away.
The display of bones is said to remind one of our mortality and how fleeting this life is.
Entrance Fee: €6 EURO
Opening Hours: 9 AM to 7PM
12: Torre Argentina Cat Sanctuary
Named after the 15th century Argentoratum tower built by Johannes Burckardt, the Foro Argentina area was found and excavated in 1929. There are four temples in this area, as well as the Curia Pompei where Julius Caesar was killed in 44 BC.
After the 1929 excavations, feral cats were drawn to the area and took shelter among the Roman pillars. Over time the cat population has grown quite large, and volunteers care for, spay and neuter the cats that live here.
Visitors can feed the stray cats and purchase souvenirs that helps support running the cat sanctuary. I'm pretty sure this was Anna's personal favorite activity to do in Rome…
Opening Hours: Monday – Friday: 12 AM to 6 PM. Saturday – Sunday: 11 AM to 7 PM

13: Altar Of The Fatherland
Home to the Tomb of the Italian Unknown Soldier, the Altare della Patria or Altar of the Fatherland is 70 meters tall and 135 meters wide. Built by the first king of Italy, it's also called the Victor Emmanuel II National Monument in honor of this king.
Occupying the area near Piazza Venezia, the altar comprises a forum and a three-leveled agora. The views from the rooftop are spectacular, and you can either walk 196 steps to the top or pay 7 EURO for the elevator.
Opening Hours: 9:30 AM to 7:30 PM
14: Watch A Sunset From Terrazza Del Pincio
During both clear skies or cloudy days, the Terraza del Pincio offers picture perfect views of the Piazza del Popolo with the Flaminian Obelisk at its center. Located at the top of the Pincian hill in Villa Borghese Park, it's also the best place to watch the sun set over this ancient city.
On the way to the Terrazza del Pincio from the Villa Borghese, you can also see the Orologio ad acqua del Pincio, a hydro-chronometer built in 1873 that still tells time.
15: Via Appia Antica
Connecting Rome and Brindisi, the Appia Antica or "Appian Way" was Europe's first super highway and military road built between 312 and 264 BC. It stretched over 300 miles long!
It's made of large flat stones set in place by thousands of years of rain, wheels, and armies passing over them. Walking (or biking) the Appian Way lets you walk in the footsteps of Roman emperors, merchants, saints and maybe even St. Peter himself.
Spartacus and other slaves that rebelled against Rome were crucified along the Appian Way.
There are also many tombs and catacombs that you can visit along the tree-lined route such as the famous Catacombs of St Sebastian.
The Appian Way is located a bit outside the city center, but to visit you can take the metro to the Circo Massimo stop then catch the #118 bus, which runs every 40 minutes. Or just hop in a taxi.
16: Quartiere Coppede Neighborhood
Named after architect Gino Coppede who was involved in designing the area, the Quartiere Coppede is a tranquil section of Rome. Located just outside the historical center, you can see different types of architecture including Roman and Baroque.

Some attractions to see in Quartiere Coppede include the beautiful Coppede entrance Arch, Palazza del Ragno, and Fontana delle rane in Piazza Mincio.
17: Explore The Trastevere Neighborhood
Trastevere is Rome's colorful bohemian neighborhood, and will give you a glimpse of what life is like for the actual people who live & work in Rome. There are numerous local Italian restaurants and cafes that line the ivy-filled streets here.
If you want to get lost in Rome for a day just exploring, this is the area to do it. Trastevere has become a popular Instagram photography spot in Rome too.
The neighborhood has a charming small town feel, but is located in the heart of the city with the Vatican and Colosseum only a 30-minute walk away.
18: Baths Of Caracalla
Built in the 3rd century by Emperor Caracalla, these magnificent public bath complexes were used by most of Rome till around 537 AD. The Terme di Cacacalla were so big and perfect that they offered users different temperatures of cold or hot water that were heated by wood-fired oven.
The site also includes a gym, library, cafes, and an Olympic size swimming pool where people lounged at the edges and played games (you can still see the notches in the stone).
One of the coolest parts of this site is the ability to rent a Virtual Reality headset that allows you to see what the place would have looked like during Roman times as you walk around!
Entrance Fee: €8 EURO, plus €7 EURO to rent the VR headset (do it!)
Opening Hours: Tuesday – Sunday: 9 AM to 6:30 PM
19: St. Peter's Square & Basilica
Completed in 1626, St. Peter's Basilica in Vatican City contains works by many great artists, including Michelangelo's Pieta. It's one of the top things to do for people who visit Rome, not only for it's rich history and importance to the Catholic religion, but also for the art it contains.
St. Peter's is the largest of the Papal Basilicas, and one of the largest churches in the world too. The interior is pretty amazing, with murals and sculpture decorating every room.
One highlight is the bronze statue of St. Peter by Arnolfo di Cambio, the foot of which has been worn down by the touch of the millions of pilgrims who pass through.
If you climb up the spiral staircase to the dome of the Basilica, you'll get an amazing view of Rome (pictured above).
Entrance into the Basilica is free, but going up to the dome costs €8 EURO via elevator or €6 EURO taking the stairs. It's well worth it for the amazing view!
20: Catacombs Of Rome
Yes, Rome has catacombs too! These underground passages were created by early Christians and Jews as burial chambers from the second to fifth century.
After Christian persecution stopped, they could bury their dead without fear and stopped using the catacombs. But you can still visit the ones that are still open, which include:
Catacombs of San Callisto
Catacombs of Priscilla
Catacombs of San Sebastiano
Catacombs of Sant Agnese
Catacombs of Domitilla
21: Janiculum Hill
Located just outside the city of Rome, this area is often called the eight hill of Rome. At the top of Janiculum Hill, you'll see the famous Garibaldi Monument, Manfredi Lighthouse, and the Fontana dell'Acqua Paola.
You'll also find the Church of San Pietro in Montorio at the top. This church was set up on the place where Saint Peter was crucified. The top of the hill offers one of the best views of Rome for photos.
22: Campo Dei Fiori
In 1456, Pope Callistus III had a field of flowers paved into a local market, the Campo dei Fiori. It's also where Giordano Bruno was burnt alive for heresy in 1600.
Now a martyr, you'll find a statue to him in the square.
Campo dei Fiori also served as horse market, and a fish and meat market in different centuries. Visit it now though, and you'll find it a great place to enjoy local food while shopping for souvenirs.
23: Eat Tons Of Italian Gelato
You can't visit Rome without eating as much Italian gelato as you possibly can! Gelato is Italy's version of ice cream. It differs slightly from the American kind as it has less than half the fat, and less "air" too. Making it a denser treat.
The best Italian gelato isn't brightly colored, as traditional gelato doesn't include tons of artificial additives/colors. So keep an eye out for gelato shops that have more subtle colors in their displays.
Some of my favorite gelato places in Rome included Come il Latte (near Termini Station) and Giolitti (near Trevi Fountain).
24: Rome's Palatine Hill
Palatine Hill, located just across from the Colosseum, is one of Seven Hills of Rome and said to be one of the oldest parts of the city. It's a kind of open-air museum, that was once the site of many imperial palaces and homes of rich ancient Romans.
In 2006, archaeologists discovered what is believed to be the birthplace of Rome's first Emperor Augustus.
There are many monuments and ancient buildings located on the hill which you can explore, as well as a nice view of the Colosseum itself.
25: The Pyramid Of Cestius
Located in the Testaccio neighborhood of Rome, the Pyramid of Cestius is an unusual thing to do in Rome, as it looks like it belongs in Egypt rather than in Italy's capital city.
Built in 12 BC this stone pyramid was the resting place for the Roman praetor Caius Cestius.
There are special tours inside the tomb itself on weekends (in Italian language only), otherwise it's possible to get some good photos of this odd Roman Pyramid from the Non-Catholic Cemetery nearby.
Getting Around Rome
Most people get to Rome after flying into Italy's Fiumicino International Airport. Search for the cheapest flights to Rome on Skyscanner.com.
From the airport, you take 2 different trains: The Leonardo Express is the faster and more expensive option direct into the city center, while the cheaper FR1 Local Train stops at some of Rome's bigger suburban areas too.
Rental Car
The best site to book your car is with Discover Cars. They search both local and international car rental companies to help you find the best possible price. This is the easiest way to rent a car and drive in Italy.
Renting a car offers the best flexibility to explore more remote and less touristy spots on the outskirts of Rome, and other parts of Italy. It's my favorite way to get around Europe!
Taxis
You won't find many taxis around Rome that are willing to take you. In order to get a taxi, you need to either take one from a taxi stand or get your hotel to arrange one for you. Rates start at € 1.10 per km and go upwards.
Metro
Run by the Azienda Tramvie ed Autobus del Comune di Roma or ATAC for short, the underground or Metro runs daily till 11:30 pm and till 1:30 Am on weekends. It's the easiest way to get around Rome and especially useful for families as children under 10 go free.
You can buy multi-day tickets from the machines at the metros. Or if you need help deciding, get them from one of the Tabacco shops. These tickets allow unlimited use on all the ATAC networks – metro, tram and bus during the validity periods.
Bus
Part of the ATAC system and using the same tickets, they're perfect for getting around Rome while taking in the sights and sounds of the Rome landmarks that you pass by.
Tram
Six tram lines run from 5:30 am to midnight. They're useful in certain areas and connect travelers to other lines such as bus and metro. Line 3 and Line 8 both connect to Trastevere.
Once you get on a tram, do remember to validate your ticket at the validation machines. It's easy to forget and get fined.
Bike, Scooters And Segways
Cycling is a not really that used to get around locally, but e-bikes have become very quite popular. You can rent an e-bike for a one time use or for multiple uses.

Some popular rental agencies are Roma Starbike E-bike Tours and Easy Bike Rent.
Segway tours have become popular with tourists and are a great way to go on trips around Rome without taking a toll on your feet. It's a big city!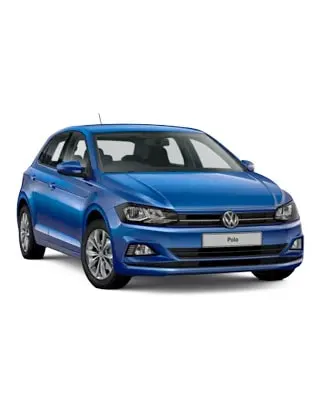 Rent A Car In Italy
Search both local and international car rental companies to help you find a good deal.
Where To Stay In Rome, Italy
Accommodation in Rome can range from budget-friendly hostels and B&Bs to luxurious resorts with spa facilities. The best places in Rome to stay are Trastevere or Monti for easy access to Rome attractions and arts and culture.
If you want to be where the food is, stay in Testaccio, and if you're looking for luxury head over to Prati. Wherever you stay, there are always some things to see in Rome that will be close to you.
---
BEST ACCOMODATION IN ROME
---
Useful Rome Travel Tips & Advice
Tipping isn't part of Italian culture, and most restaurants include a service charge. But if you choose to leave a tip, 10% is normal.
Always carry some cash. Many of the smaller local stores and restaurants in Rome prefer cash rather than credit cards.
The pretty water fountains you'll find throughout the city actually contain drinkable water. Save some money and fill your water bottle up there!
Wear good walking shoes to protect your feet, as you'll be doing a lot of walking in Rome.
Get the Roma Pass! It offers unlimited access to public transport and discounted entry to sites with free entry to a few.
Watch your stuff. Rome is filled with pick-pockets that can get anything out of your backpack or purse easily. Make sure to read my travel safety tips.
In Italy, don't order cappuccinos or any other coffee with milk after 12 pm!
If you visit some of the restaurants in Rome for dinner, remember that house wine is the cheapest!
---
Enjoy This Article? Pin It!
---
READ MORE ITALY TRAVEL TIPS
I hope you enjoyed my guide on the best things to do in Rome, Italy! Hopefully you found it useful. Here are a few more wanderlust-inducing articles that I recommend you read next:
---
Have any questions about things to do in Rome, Italy? What about other suggestions? Join the conversation on Facebook, Instagram, or Twitter to share!